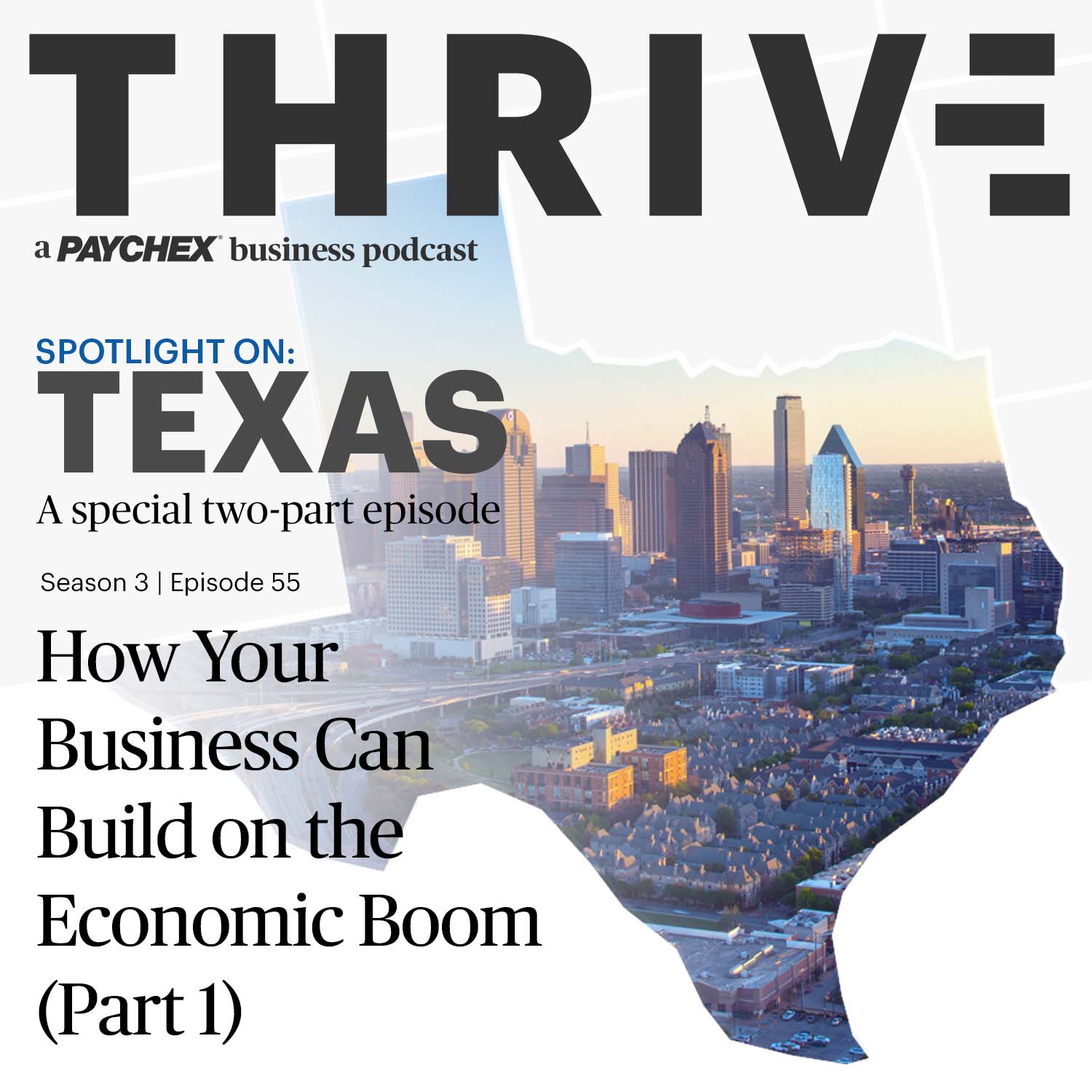 In this two-part special event, Gene Marks leads a roundtable discussion on the explosive business growth in Texas. In Part 1, our panel of trade industry and agency experts discuss what's drawing businesses to Texas and driving its economy. How are they handling hiring, inflation, and supply chain shortages? What innovative solutions do leaders see? 
Featured guests:
Cindy Ramos-Davidson, CEO, El Paso Hispanic Chamber of Commerce;
Brandom Gengelbach, President and CEO, Ft. Worth Chamber of Commerce;
Geoffrey Tahuahua, President, Associated Builders and Contractors (ABC) of Texas
Topics include:
7:33 - Fast pace of TX construction, and need for workers
9:21 - Not a Great "Resignation," but "Re-Think, Re-Adapt."
12:14 - SMBs retrained workers, who were then poached by larger companies.
13:46 - How could immigration reform help increase the pool of potential workers?
19:04 - Helping SMBs access capital through State Small Business Credit Initiative.
21:55 - Value of trades in developing lucrative, lifelong skills.
24:21 - How are inflation/supply challenges impacting construction, bank loans, etc.?
28:45 - Top challenges for El Paso SMBs reflected in survey findings.
35:50 - Texas is business-friendly; top 3 net DFW transplants from LA, Chicago, NYC
40:30 - Is Texas a recession-proof state for businesses?
Resources:
Considering relocating your business to Texas? Grab our checklist to ensure you've covered your bases at www.paychex.com/sites/default/files/2022-05/TX_RT_1287505_RelocationChecklist.pdf
Do your employees come from multiple locations or cross state lines? Access our whitepaper for guidance on building a collaborative workforce at www.paychex.com/secure/whitepapers/collaborative-workforce-across-locations.
Prefer to watch this conversation online as a virtual roundtable video? Access the full dialogue, guest speaker biographies, and additional resources, when you enter your email at our Session 1 event page. 
DISCLAIMER:
The information presented in this podcast, and that is further provided by the presenter, should not be considered legal or accounting advice, and should not substitute for legal, accounting, or other professional advice in which the facts and circumstances may warrant. We encourage you to consult legal counsel as it pertains to your own unique situation(s) and/or with any specific legal questions you may have.