Episodes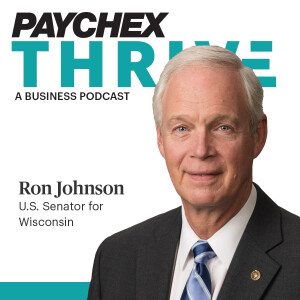 Tuesday Apr 11, 2023
Tuesday Apr 11, 2023
As a Senator for the state of Wisconsin, Ron Johnson knows the enormous impact the government can have on our economy, our businesses, and our lives. That's why he is working to ensure that there's more transparency within government. Listen in has Senator Johnson talks with host, Gene Marks about what he's doing to help businesses, including his work on the Guidance Out of Darkness (GOOD) Act, his thoughts on independent contractor classification, the complexity of our tax code, and much more.
Topics Include:
00:00 – Welcome, Ron Johnson
00:46 – Guidance Out of Darkness (GOOD) Act
02:56 – Cost of complying with government regulations
03:38 – How business owners find guidance today
04:35 – Who supports the GOOD Act?
06:10 – Independent contractor classification
08:08 – What could happen with reclassification ruling?
08:51 – New IRS commissioner, Danny Werfel
09:29 – Possible increase in IRS audits
10:16 – Complexity of our tax code
13:27 – IRS Accountability Act
14:05 – Transparency in government
15:08 – Prevent Government Shutdowns Act
18:53 – The national debt and increasing interest rates
19:56 – Corporate tax rate
22:08 – Senator Johnson on Senate Finance Committee
24:26 – The Senator's ideal way to handle taxes
28:15 – Wrap up
Learn more about the proposed worker classification rule at www.paychex.com/articles/compliance/dol-independent-contractor-rule.
Find out how the Inflation Reduction Act is increasing IRS audits and enforcement at www.paychex.com/articles/compliance/inflation-reduction-act.
DISCLAIMER:
The information presented in this podcast, and that is further provided by the presenter, should not be considered legal or accounting advice, and should not substitute for legal, accounting, or other professional advice in which the facts and circumstances may warrant. We encourage you to consult legal counsel as it pertains to your own unique situation(s) and/or with any specific legal questions you may have.