Episodes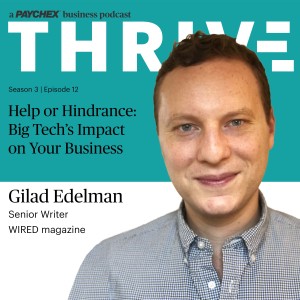 Tuesday Dec 07, 2021
Tuesday Dec 07, 2021
Google. Facebook. Amazon. How do these three tech companies dominate online search and advertising options for small businesses competing for visibility in the online marketplace? Gilad Edelman covers the intersection of Big Tech, politics, and law for WIRED magazine. Hear his insights on the power and impact of these online marketing giants, what practices might define them as monopolies, and whether pending lawsuits or other national actions could curtail their current influence on business competition.

Topics include:
4:04 - Analysis of Parler's removal from app stores
8:59 - Why sole-platform businesses need backup plans
12:12 - Customer service pains in the internet economy
13:36 - Three markets Google monopolizes
17:51 - Is small business stagnating despite cheap ads?
20:23 - Will a third member join the online ads duopoly?
21:49 - The new shift in Amazon search
26:42 - Antitrust legislation odds Big Tech may face
29:53 - Could the FTC set new rules regulating Big Tech?
Resources:
Review best-practice strategies to compete against larger competitors at:
www.paychex.com/articles/marketing/how-to-succeed-business-competition.
What's omni-channel marketing and how can you leverage it for your small business: Learn more at: www.paychex.com/articles/marketing/what-is-omni-channel-marketing.
What would you like to hear on THRIVE? Suggest a topic or guest for the show at: http://payx.me/thrivetopics.
DISCLAIMER:
The information presented in this podcast, and that is further provided by the presenter, should not be considered legal or accounting advice, and should not substitute for legal, accounting, or other professional advice in which the facts and circumstances may warrant. We encourage you to consult legal counsel as it pertains to your own unique situation(s) and/or with any specific legal questions you may have.